BC EPILEPSY SOCIETY
Research Article About SUDEP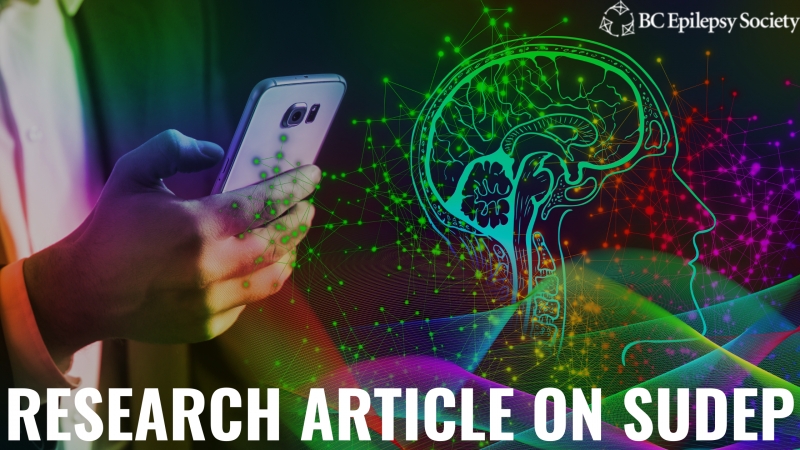 SUDEP, also known as Sudden Unexpected Death in Epilepsy, refers to the premature death of a person with epilepsy that is not associated with any other known cause of death. They are often found deceased in bed with evidence of a recent seizure occurring while they were asleep.
SUDEP is the leading cause of premature death of people with epilepsy. It was originally thought that SUDEP only affected 1 to 2 people of every 1,000 people with epilepsy annually but a recent peer-reviewed research article that was published ahead of print in the peer-reviewed journal, Neurology, found that the above numbers are actually an underestimate because insufficient history and ambiguous pathological findings can lead to misclassification.
This means that more people are affected by SUDEP than originally reported.
A question that many people might ask is "What is my risk of SUDEP?" The article's main finding was that the major risk factor for SUDEP was ongoing convulsive seizures.
The article also determined some less consistent risk factors for SUDEP, including:
Early age of epilepsy onset – with SUDEP risk slowly increasing with age
Long duration of epilepsy
Nocturnal seizures
Taking a high number of anti-seizure drugs
Non-adherence to anti-seizure drugs
Alcohol and drug use
Males
History of epilepsy in first-degree relatives
Additionally, while it was originally thought that only tonic-clonic seizures contributed to increased SUDEP risk, the article also determined that there was also an association with focal-onset seizures and increased SUDEP risk. Furthermore, the article found that the use of Lamotrigine, Benzodiazepines, and Carbamazepine are all associated with increased SUDEP risk. Finally, the article found that a person who had undergone epilepsy brain surgery had a decreased risk of SUDEP.
Source: Jha, Ashwani, et al. "Sudden Unexpected Death in Epilepsy: A PersonaliZed Prediction Tool." Neurology (2021).
It is important to get educated about SUDEP. We encourage you to have conversations with your loved ones about SUDEP. Find out more about SUDEP here.
Shop at our Online Store!
Help us raise awareness for epilepsy by wearing our apparel! You can choose from a variety of options, including t-shirts, baseball tees, jackets, and hats.
VISIT THE STORE
Donate Today
As a non-profit, charitable organization, the BC Epilepsy Society relies on individuals like you to help us deliver our support and education programs
DONATE NOW