BC EPILEPSY SOCIETY
Ruby's Story - Purple Day Champion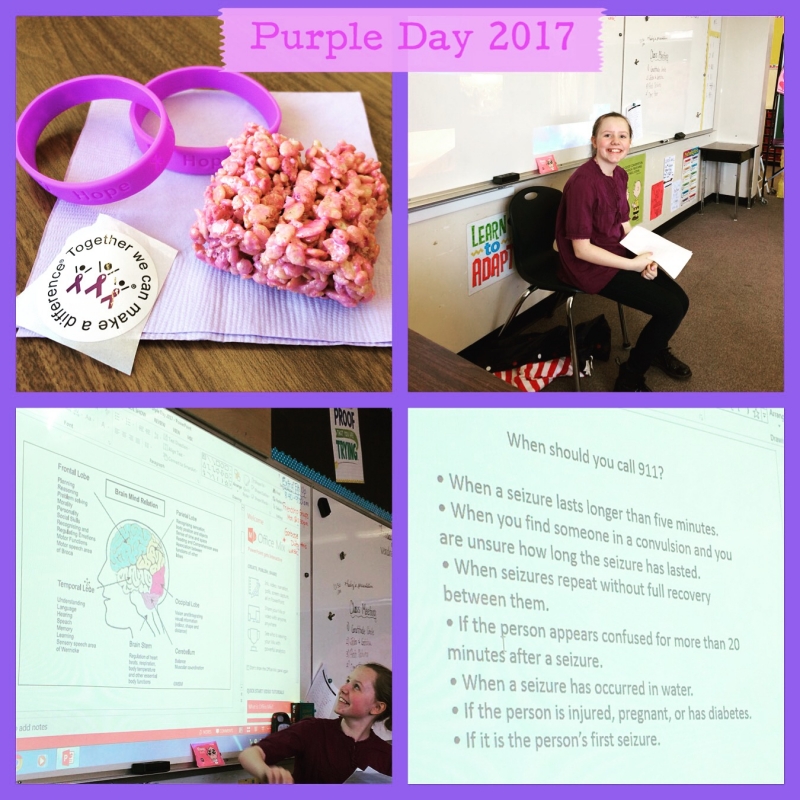 Ruby's Story
Ruby had her first seizure the summer of 2013. She had just finished grade 1 and was taking a writing class for summer school. She woke up one night and asked for her dad to sleep in her bed. An hour later I was awakened to the screams of Bryce calling out Ruby's name and when I turned on the light Bryce was holding Ruby as she shook uncontrollably. At that moment, we had no idea what was happening and consequently no idea how our lives were about to change. After a second seizure we had our first of many EEG's and this was the beginning of our worst nightmare; our healthy, happy-go-lucky sunshine girl was diagnosed with Benign Rolandic Epilepsy. The doctors said this was the best of all cases, as she would grow out of it. The doctors said this can happen and not to worry too much. The doctors said live your life and try not to be too stressed out about it, because Ruby would feel the stress. Don't have her in your bed, as it would cause challenges down the line. The doctors said a lot of things, but all I could think about was how my only child could get hurt or possibly die. How she might not be able to drive; be able to play without becoming fearful of her surroundings; how she had to be prescribed medicine and how the medicine would affect her. This would be a test of our patience, our resolve, and our love for our only child who was also afraid and unknowing of what lay ahead.
Our life had changed and trying to find our new normal was not easy. We work shift work from very early morning until very late at night. As we worked with Ruby through her dark moods and ever-changing daily routines, we also had to work with each other and our own dark moods. Yet, we were determined to do it as a family and not let it break us.
It was scary and stressful but after a few years when the seizures were less frequent we got into a better rhythm. We found the right dose of medicine and we saw our sunshine girl was returning to her normal self. We always openly talked about epilepsy to our friends, teachers and classmates to help Ruby feel supported. It worked because she was able to do a presentation about Purple Day in Grades 2, 3, 4 and now 5! Her friends were always engaged, asked questions and loved her for showing them that epilepsy was not something to be feared, not something that would prevent her from doing the things she loved and most importantly, that she knew this was just a part of her but it did not define her. Each year that passed we acknowledged the "anniversary date" by taking a trip to celebrate that we worked hard as a team and we got through another year stronger, better and moving forward with our reality.
Now, she has been seizure free for just over two years and we have worked slowly toward the day when she will no longer need her medicine. It's a new scary time: what if the seizures return? What if her mood changes again?  The unknown is always scary but we cannot predict what will happen so we are trying not to focus on that. We know we will still have a few sleepless nights watching the "Ruby monitor", a few nights of feeling better having her sleep soundly in her own bed, but we are all very excited to celebrate and move forward as a family.
We vow to be a part of Purple Day every year and will continue to educate and talk about epilepsy awareness in our daily lives. We want to thank the BC Epilepsy Society for all their support over the years and for the opportunity to share our story.
Ruby, Bryce, and Mary
Shop at our Online Store!
Help us raise awareness for epilepsy by wearing our apparel! You can choose from a variety of options, including t-shirts, baseball tees, jackets, and hats.
VISIT THE STORE
Donate Today
As a non-profit, charitable organization, the BC Epilepsy Society relies on individuals like you to help us deliver our support and education programs
DONATE NOW