BC EPILEPSY SOCIETY
Seniors and Epilepsy Webinar May 27th at 5 pm pst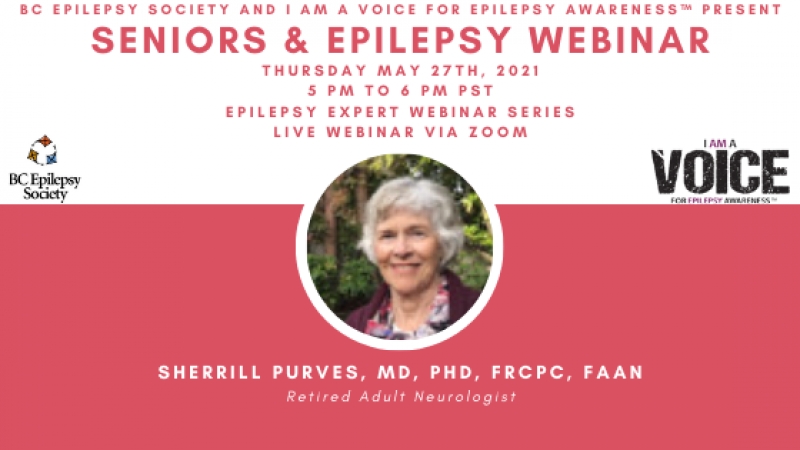 Join the BC Epilepsy Society and the I AM A VOICE for Epilepsy Awareness™ campaign on May 27th at 5 pm pst for our Seniors and Epilepsy Webinar as part of our Epilepsy Expert Webinar Series.
As people age, the risk of epilepsy and seizures rise. In fact, the onset of epilepsy is common in seniors, with epilepsy being the fourth most common neurological disease in the senior population after migraine, dementia, and stroke. This webinar will cover information on epilepsy and seizures in seniors.
To join this free webinar on May 27th at 5 PM, please visit join.zoom.us and enter the Meeting ID 878 2408 6537 and Passcode 564842. You can also click here for the direct link to the webinar.
About the Speaker:
Dr. Sherrill Purves, BSC, MD, PhD, FRCP

 

completed her Bachelor of Science at McGill University and Medical School at UBC, after which she completed her residency training in Neurology at the UBC. She obtained her PhD in Neurophysiology at UBC and completed her fellowship in Neurology at UBC. She has worked in British Columbia at Vancouver General Hospital, Lions Gate Hospital and UBC as well as in the United States in Sioux City, Iowa and Minneapolis, Minnesota. She is on the BC Epilepsy Society Professional Advisory Committee, was part of the Patient Communications Committee at the American Academy of Neurology and the Canadian Neurological Society.
We look forward to seeing you at this informative and educational event!
Shop at our Online Store!
Help us raise awareness for epilepsy by wearing our apparel! You can choose from a variety of options, including t-shirts, baseball tees, jackets, and hats.
VISIT THE STORE
Donate Today
As a non-profit, charitable organization, the BC Epilepsy Society relies on individuals like you to help us deliver our support and education programs
DONATE NOW