BC EPILEPSY SOCIETY
Is it a "Bones" Day or a "No Bones" Day?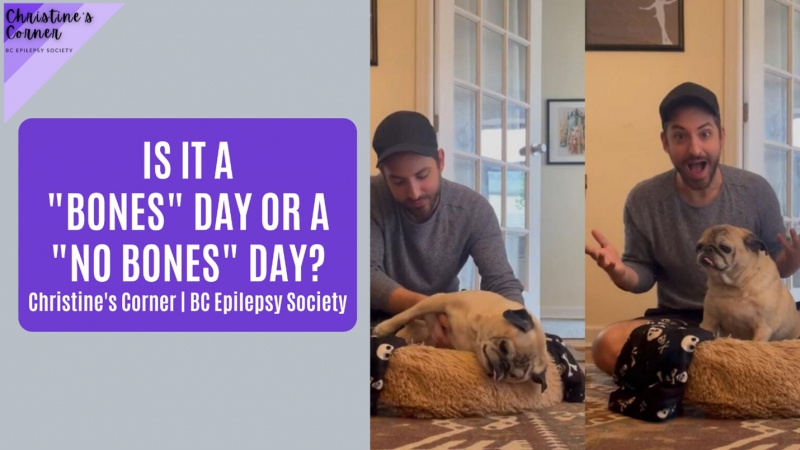 I have to admit it. I'm obsessed. A few weeks ago, I discovered Noodle the Pug on TikTok and became overwhelmingly enthralled in his daily 'forecast'.
Every day, he and his owner, Jonathan Granzino, play a game: if Granzino wakes up a sleepy Noodle and the elderly pug stands, it's a "Bones" day. If he flops back down, it's a "No Bones" day. And, as Granzino's voice-over explains, "We find out what kind of day we're going to have."
"Bones" or "No Bones" has become a quasi forecast for good days or bad days, embraced in a way that's both serious and not.
So, as a person living with epilepsy, why do I love "Bones" and "No Bones"?
There have been so many days where I wake up in an epilepsy fog or have a seizure in the morning and just feel like laying in bed. There are even days where my epilepsy hasn't been at its worst, but I still just feel mentally tired.
Until "No Bones", I never really had a phrase that wrapped all of this into one saying. Being able to have words to describe this feeling has given me more of a feeling of control over it.
More than that, having a "Bones" or "No Bones" day helps give us permission to feel the way we need to sometimes feel.
While the Noodle forecast isn't real or accurate, it is also still freeing in a society that frames quitting as failure and rest as wasted time.
Because of this, I often struggle with self-care and sometimes feel guilty or selfish when I do acts of self-care. However, the Noodle phenomenon normalizes "No Bones" days and gives us permission to prioritize and embrace self-care.
Sometimes, I feel alone in my "No Bones" days and my epilepsy but now I've discovered an entire community of people on TikTok who can also relate. Seeing an adorable old pug not want to get out of bed is relatable in a weird way. The phenomenon is normalizing how we talk about mental health and physical health.
Ultimately, recognizing a "No Bones" day can benefit your mental health and physical health. It's okay to take a step back and realize today is just not your day and be a bit kinder to yourself as you take some much needed time to rest.
Shop at our Online Store!
Help us raise awareness for epilepsy by wearing our apparel! You can choose from a variety of options, including t-shirts, baseball tees, jackets, and hats.
VISIT THE STORE
Donate Today
As a non-profit, charitable organization, the BC Epilepsy Society relies on individuals like you to help us deliver our support and education programs
DONATE NOW